You can get the copy of the list and reuse it however you want. Just make sure to mention Rocket labs if you are going to republish it.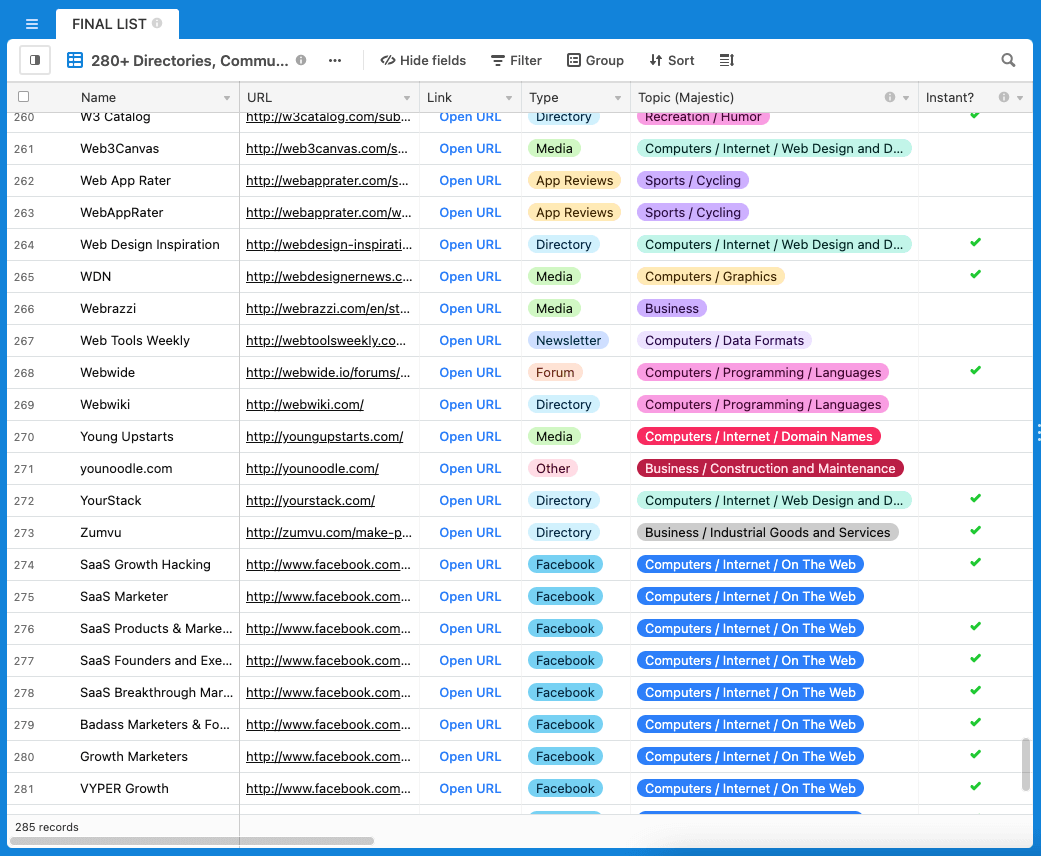 As an SEO agency focused on SaaS startups, we know all too well the difficulties up-and-coming tech companies face. Putting your business on the map at a low cost is no small feat.
Since our primary focus is organic growth on search engines, we initiated extensive research to help new startups take their first link-building steps and get exposure on high-traffic websites.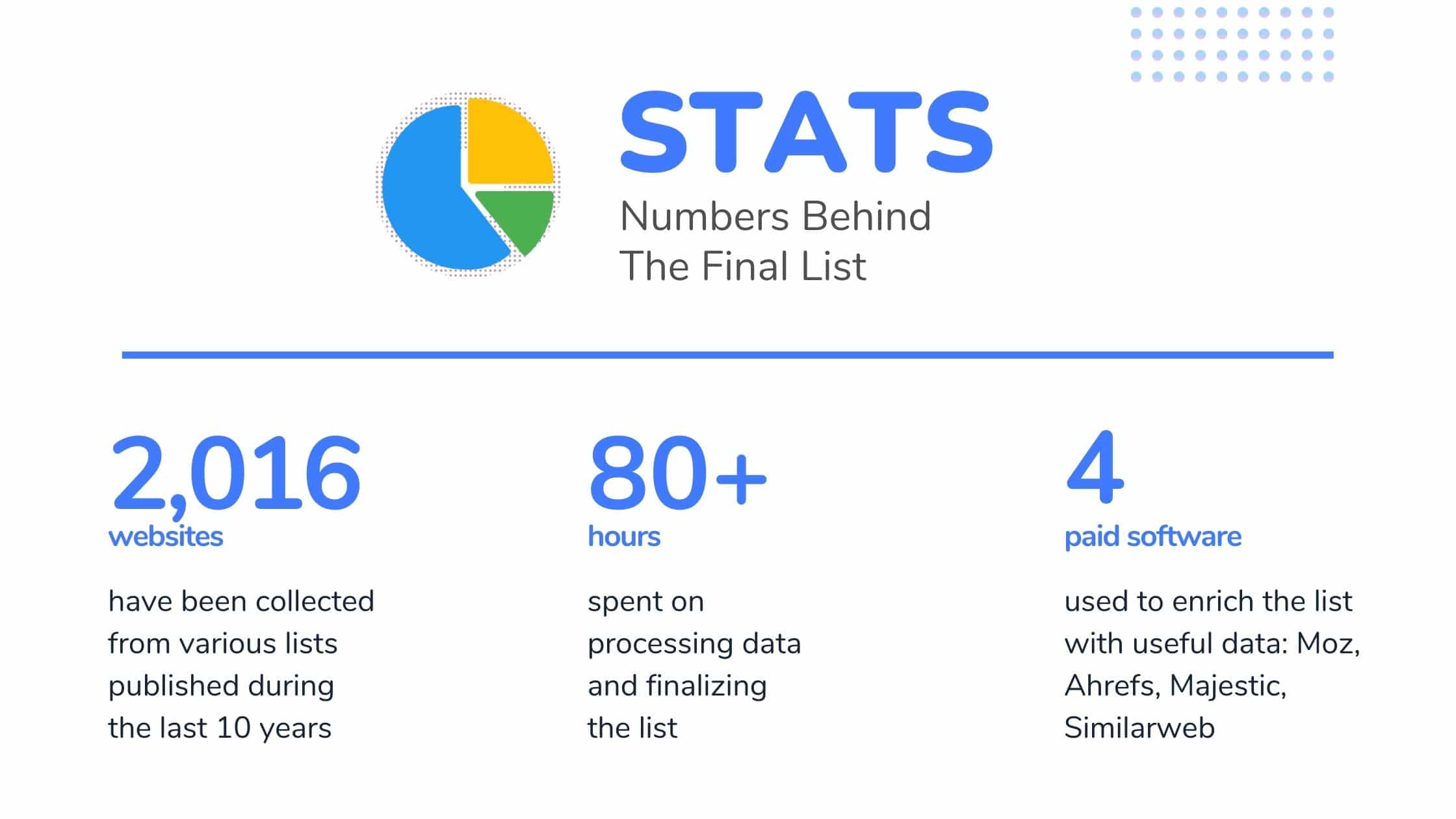 Let's find out if our list of startup directories is right for you. Do you want to:
Sell a startup idea;
Pitch your business before launch and gain early user traction;
Get feedback on your prototype or software beta features;
Score extra funding in the development phase;
Promote your product or services for free;
Get press coverage;
Find networking and partnership opportunities;
Boost your website organic traffic;
Build online visibility and brand awareness?
If at least one of those made you nod in agreement, you're in the right place.
How We Came Up with the Startup Directories List
We are members of a few SaaS communities, and one question that repeatedly appears in many groups for new startups is, "Can you share a list of websites where I can launch and promote my startup?".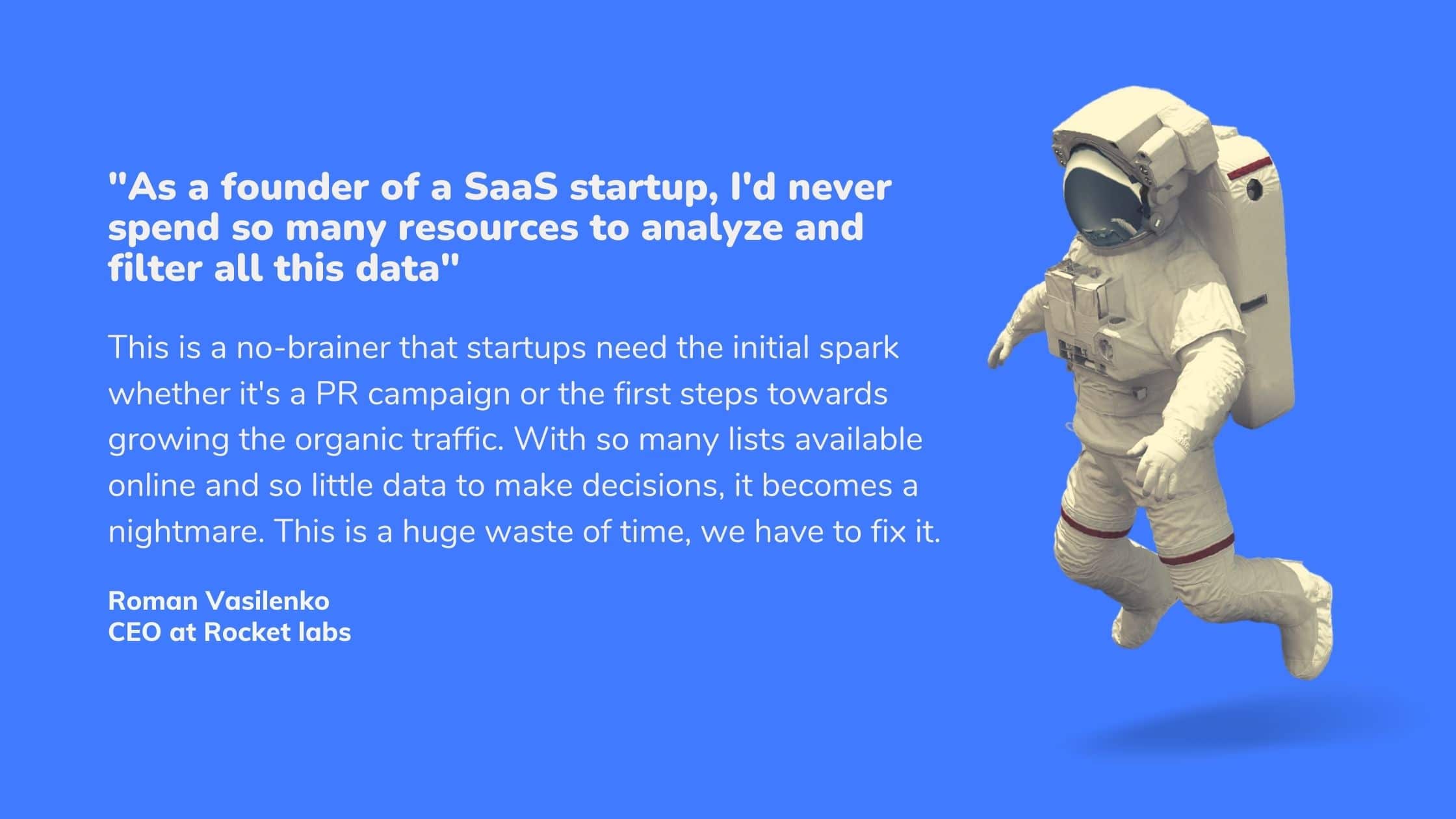 Is clicking hundreds of URLs deciding if you should publish your startup there your thing? Didn't think so. That's why we decided to help founders save literally hundreds of hours by rethinking the way lists of startup directories are created.
How Did We Conduct the Research?
First, we crawled and audited all the available data from similar lists. Startup directories, such as those found on GitHub and Submit.co websites are the few standing out in terms of quality.
But they still lack critical information, like traffic potential, to name just one. So we decided to take things further and went through each startup directory list published since 2,010.
Most resources on startup directories available online come from 2,019 at best and lack valuable data or filters to narrow down the list. About 30% of links on existing lists of startup directories lead to closed, abandoned, or pivoted websites.
Sounds like a massive waste of time founders can't afford. So we decided to propose a solution for new startups out there. We manually went through every platform to make sure you never land on a dead or irrelevant website.
Analyzing 99 crappy websites was worth it if there was a chance to get your startup at least 1 great backlink.
Here are the criteria we followed when manually crawling websites to submit your startup:
Is the website active? Does it publish new content regularly?
Is it relevant for digital startups and side projects (including games)?
Is there a direct way to create a listing or share content for publishing?
Would we publish our own or client's product there?
Is there any value for link building or brand awareness implied?
After gathering raw data and deduplicating it, we ended up with 2,016 websites. The next step was to exclude the ones with low DA and SEO potential.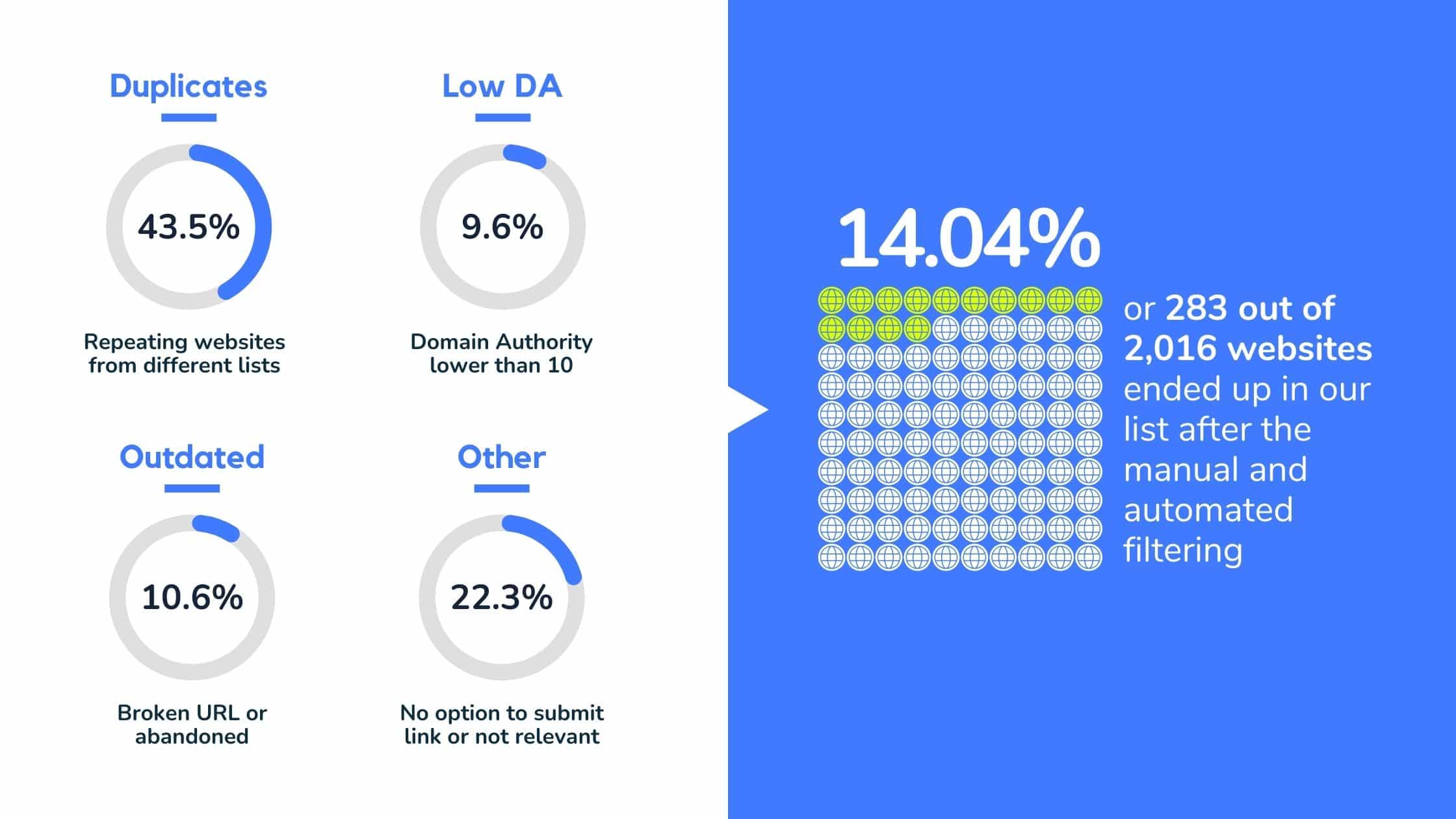 To enrich our brand-new list of startup directories, we took the following data points into account:
How long does it take to submit your startup;
Is the directory free or paid;
How difficult is submitting your startup here;
Moz Domain Authority (DA);
Traffic volume;
The top country in terms of website traffic;
Website type (media, directory, forum, etc.)
Website's core topic;
Trust and Citation Flow scores.
The icing on the cake is the startup directory filtering option. With our list, you can filter all the data according to your business needs and focus on directories that fit your product criteria.
Things to Consider Before Submitting Your Startup
After conducting market research, creating a team, and building an MVP comes the most challenging part of the startup lifecycle: promoting your SaaS product online, successfully showcasing your services to your audience, and getting first users.
Our list of websites to submit your startup is made to help you bring new products in front of early adopters or investors and improve your website authority by increasing exposure.
Before you get your hands on promoting your company on the media, let's cover the basics, so you can decide which submission websites are a good fit and which are worth skipping.
What is Website Authority and Why is it Essential?
Google algorithm is an extensive, complex beast. There are likely thousands of ranking factors, and the list just keeps growing.
If you want to get more search traffic in the long run, you need to gain Google's trust (aka authority). And one of the most effective digital marketing techniques for it is link building.
Our clients often ask: "Can I just pitch my business everywhere or buy backlinks for pennies from high-volume resellers?". Huh, if everything were that simple, SEO agencies wouldn't exist. 
To get your domain authority (DA) growing, you need to get featured by websites with a higher domain authority than yours. DA is a metric defined on a scale from 0 to 100. 
Compare your company website DA with a target website DA using free website authority checkers by Ahrefs or Moz. If the target website DA is higher than yours, that's a go-ahead signal to submit your startup there.
Another vital factor to consider is topical similarity. It means you want to get backlinks from websites that are relevant to your niche. If you sell a SaaS product for developers, backlinks from cooking blogs will get you nowhere, despite a higher DA and decent traffic volume.
While there's more to it, this should suffice to choose from business media and startup ranking directories featured in our list.
Top 5 Websites to Submit Your Startup
Here is a sneak peek of the startup directories that made it to our list. The following platforms should give you an idea of the quality we kept in mind while creating the directory list.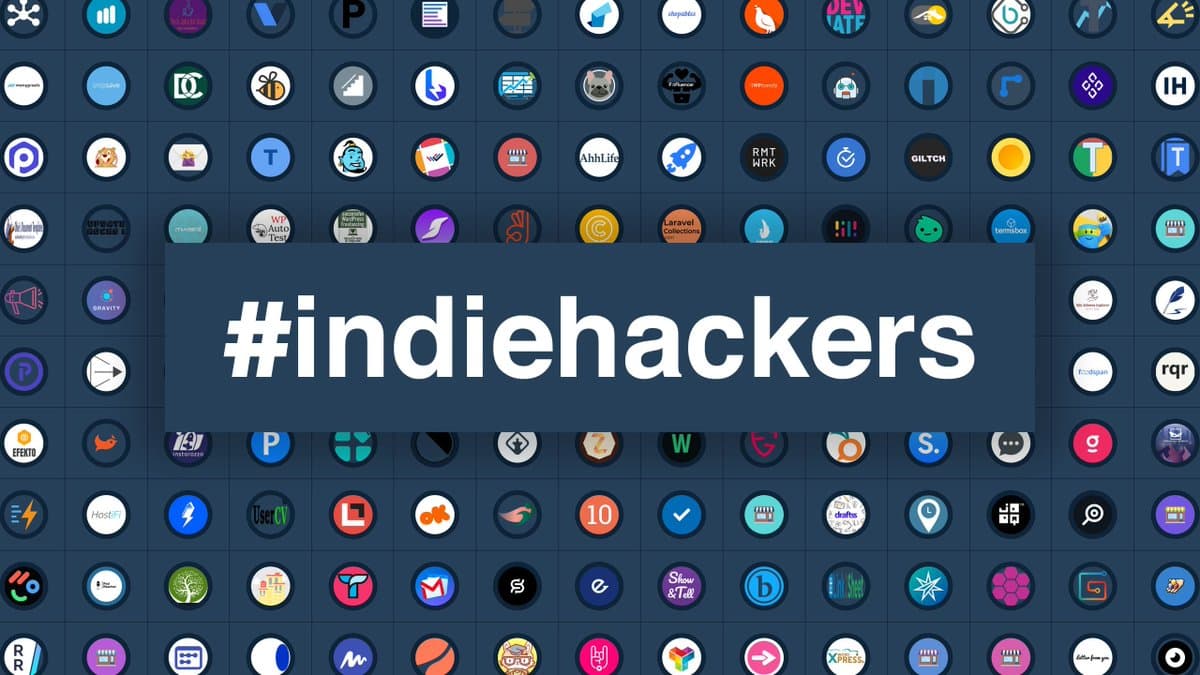 Indie Hackers is a collaborative community that brings tech business founders together. Here, SaaS companies and B2B entrepreneurs share success stories and growth insights. A startup owner like you can not only learn much about marketing new products but also reach the target audience by getting your project featured on Indie Hackers.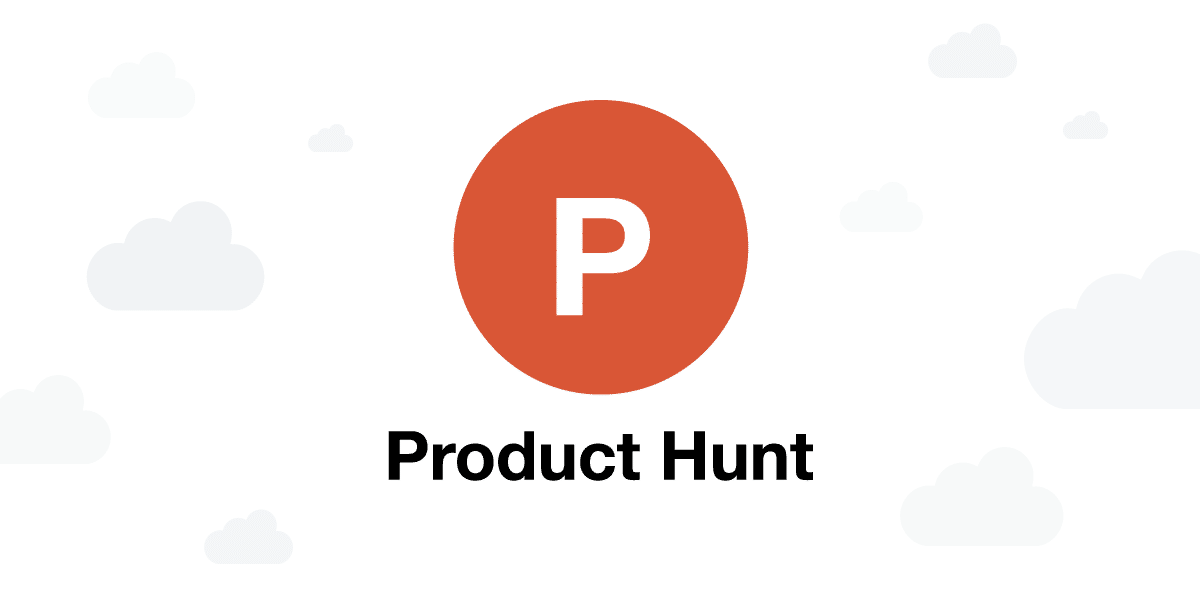 Chances are you don't need an introduction to the #1 go-to website to publish a startup or a side project. In case you do, Product Hunt is a digital platform where you can find the top new products and businesses. Share and geek out about the latest software, mobile apps, websites, hardware projects, and other creations with like-minded people.
If you plan to submit your startup on Product Hunt, get ready to spend some time preparing for a launch. This How to Launch on Product Hunt guide by the PH team should help you with that. 
Startup Stash is a startup directory of tools and resources for entrepreneurs. This platform has everything you need for your startup liftoff: from investors and product development software to launch insights and showcasing opportunities. Startup Stash is also the most upvoted service on Product Hunt.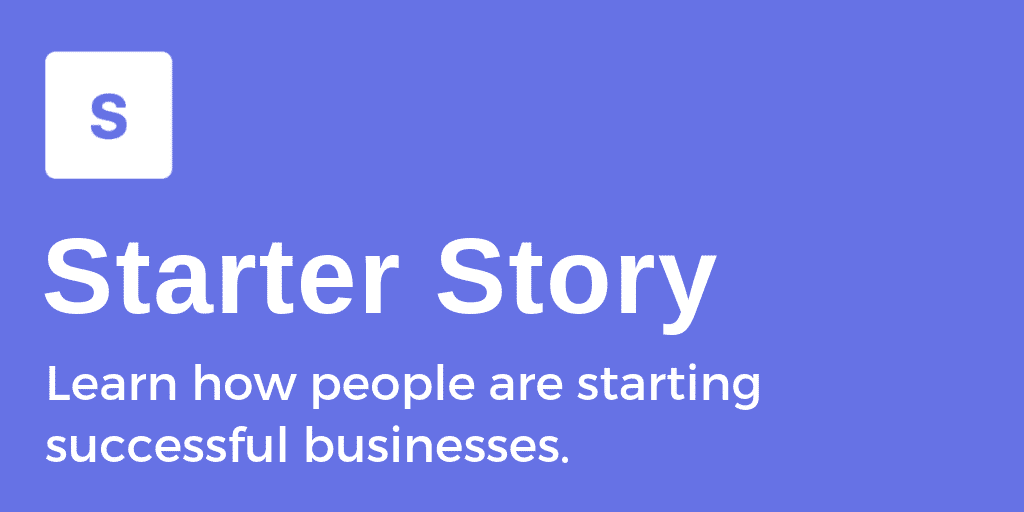 StarterStory is a startup directory platform interviewing successful entrepreneurs and providing insights about launching products and running a business. Each post covers how entrepreneurs kick off their projects, build visibility, acquire users or investment, and deal with daily challenges. Have a startup story to share? StarterStory is an excellent place to do so and get feedback from the community.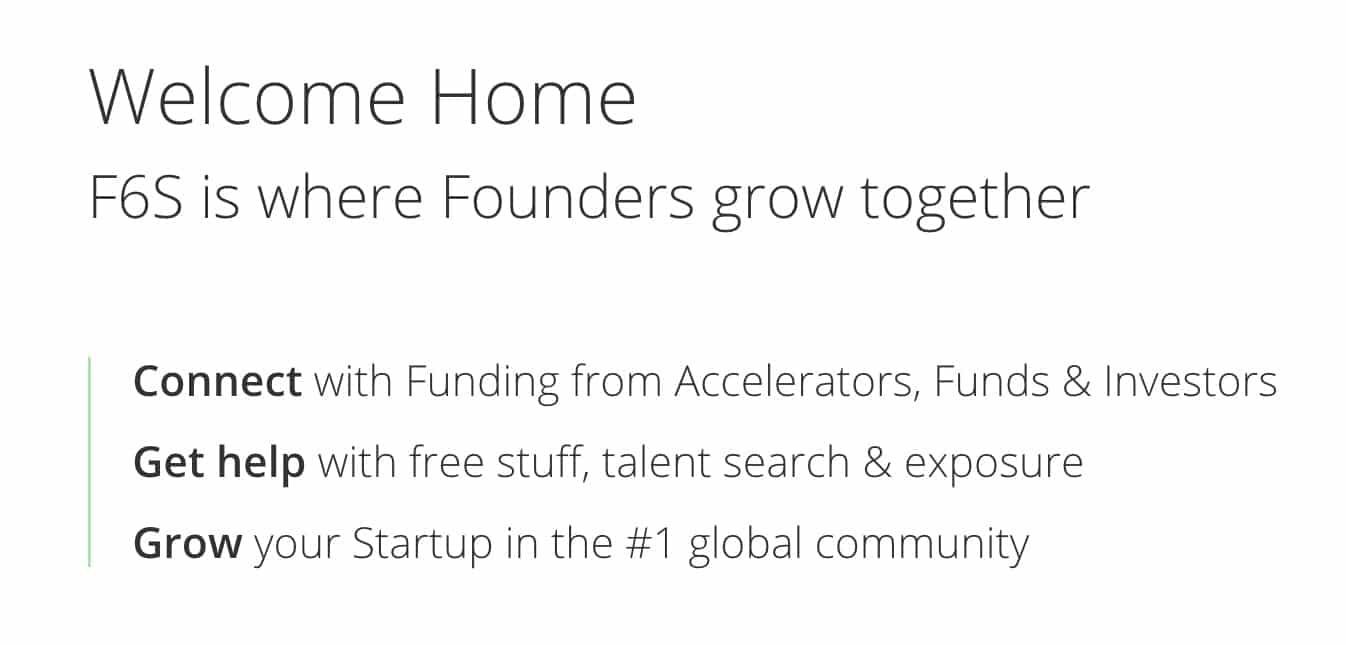 F6S is a global community of 16,000 enterprises and startup projects. Their service connects new startups and companies with early adopters, accelerators, angel and venture capital investors. On the F6S platform, you can also find jobs, grants, partnerships, and exposure opportunities. They offer help to get your startup and side projects up and running.
Here are some more great directories for new startups:
How to Save Time Publishing New Startups
After you are done using the filters and identifying the best directories to feature your startup, you should end up with about 20 websites.
The next challenge is to prepare a perfect pitch and other info you will be attaching to your listings and company profiles. Here's what you need to prepare in advance to save time on retyping the same things over and over again:
Website URL
Your Logo
Your Location
Number of Employees
Target market segment
Information on your venture/angel fundraising achievements, if any
Approximately 3-5 screenshots/images of your products
Product video (Not necessary across all platforms)
Founding year
Founder(s) name
Founder(s) bio
Awards
Both brief & long description (create about 3 copies of each for variation)
Tags
Who's the product for / What problems it solves
What makes your business different from competitors
Social media handles
Pricing details
600-2,000 words article or press release about your product
As for the last point, chances are you're not exactly thrilled with writing different copies for multiple websites yourself. Instead, you can use tools such as Writesonic to assist with copywriting or hire content writers on Upwork.
Some websites request even more business information, but these are the most common points. Have it at the ready before you go through the list.
Despite the substantial amount of time saved on gathering, cleaning, and enriching the list by the Rocket labs team, you still need to invest 5-10 hours to go through the list and submit your startup information. If you have an extra $100 budget to save you a hassle, we have a solution for you. 
Here is a step-by-step guide:
Create a Google Drive folder with all information about your company.
Create a copy of the list we've prepared and save it with all the filters applied.
Share access to the folder from Step 1.
Monitor the performance.
Tip: Add an extra column into the spreadsheet with your list where the freelance assistant will place submission URLs for you to track.
How to Track Results after Getting Featured
Below is the list of software and KPIs to keep an eye on after submitting your business:
Freemium tools with limited features: Ahrefs or Semrush

KPIs: Domain Rating (Ahrefs) or Authority Score (Semrush), Referring domains, Backlinks, Keyword Rankings

 Free service: Google Analytics

KPIs: Traffic volume and Conversions from Organic and Referral sessions.
Conclusion
Now all you need to get your startup's initial organic traffic and awareness momentum growing is to find the right words for your perfect pitch and write down all the basic info about your business. 
Let's do a quick recap of how to post your company using our list:
Get your copy of the startup directory list.
Filter it according to your website's DA, topic, and other values.
Prepare your startup pitch and other essential info about the company.
Organize files from Steps 1, 2, and 3 in a Google Drive folder.
Hire a freelancer to post info from Step 3 on websites from Step 2.
Track results over the period of 2-3 months. Your traffic, DA, and rankings should improve.
The last step is shooting us a message when your product is live to get upvotes from our team 😉 We wish you all the luck in the world!
LIst of Startup Directories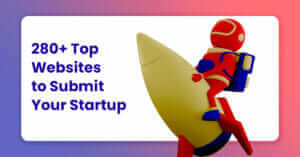 Get the free list of 280+ startup directories and media to submit your website and increase your exposure. Enriched with traffic volume, domain authority, difficulty, and many more!
Price: 0.00
Price Currency: $
Operating System: Web
Application Category: SaaS